Responsibility management
The Board of Directors of Terrafame Ltd is responsible for the organisation and integration of corporate responsibility management within Terrafame's business operations. The Board approves the company's operating principles.
Sustainability is more than just the small carbon footprint of battery chemicals for Terrafame. It refers extensively to environmental aspects, social responsibility for our personnel, consideration of occupational safety and the surrounding society, and good governance. Sustainability also means operating transparently in line with the principles of sustainable mining.
Sustainability strategy
For our sustainability strategy, we have identified the most material sustainability themes and set concrete targets for the coming years.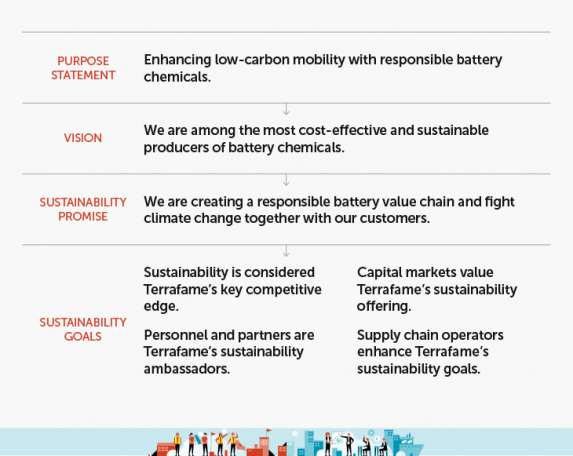 We have compiled our key sustainability measures into our Sustainability Programme for 2020–2024 and its progress is monitored in the Sustainability Review, published annually.. The themes of the programme are linked to the UN Sustainable Development Goals and the UN Global Compact initiative, which Terrafame joined in October 2020.
Terrafame's Code of Conduct
Terrafame's Code of Conduct sets out the underlying principles for concrete measures within the sustainability programme. The Code of Conduct determines general responsibilities and obligations, which are further specified in the more detailed policies and guidelines that guide our operations.
Terrafame's Code of Conduct concerns all its employees, partners and procurement chains. Our Code of Conduct is implemented through Terrafame's management system and detailed guidelines.
Sustainability policy
Terrafame's sustainability work is based on the company's values and we are committed to complying with all the laws, regulations and guidelines applicable to our operations, as well as with the necessary care and the principle of continuous improvement.
Terrafame's sustainability policy, which also covers our entire value chain, guides our work in terms of safety and environmental, social and financial responsibility. We are committed to delivering safe, sustainably produced high-quality products to our customers.
Our sustainability policy concerns our employees, partners and subcontractors – that is, everyone working on Terrafame's production or support sites.
Principles of sustainable mining
Terrafame is a member of the Finnish Mining Association (FinnMin), which is committed to the operating principles of the Finnish Network for Sustainable Mining.