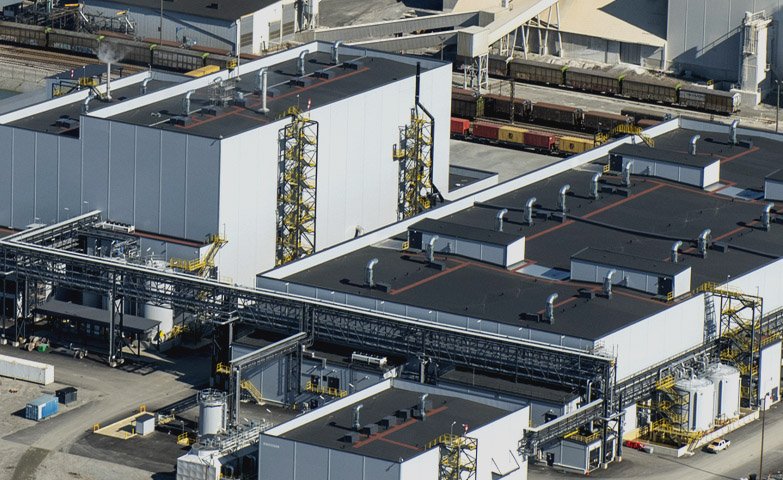 Reducing transport emissions one battery at a time
We produce nickel and cobalt sulphates, which is used as battery chemicals. Our nickel sulphate production capacity fill the needs of around one million electric cars per year.
Our five promises to our customers:
1. Uniquely small carbon footprint. An externally verified life-cycle analysis shows that the carbon footprint of the nickel sulphate produced by Terrafame is 60% lower than that of corresponding products on average.
The main factor behind the small carbon footprint is our bioleaching method, which consumes considerably less energy than conventional methods. The ore does not need to be crushed nor grinded as fine as in the traditional process, and high temperature metallurgical processes are not used in further processing. After bioleaching, we separate precious metals from the liquid solution back into solid form at the metals extraction plant. We precipitate the metals gradually into zinc, copper, nickel and cobalt sulphides, and we further process the nickel and cobalt sulphides into nickel and cobalt sulphates. Ammonium sulphate is generated as a by-product of the battery chemicals plant.
The small carbon footprint is also attributable to the fact that our entire production chain, from the mine to the battery chemicals plant, is located on the same industrial site.
2. Long-term cooperation. One of Europe's largest known nickel reserves is located in our mine area. Our battery chemicals plant is one of the world's largest production units for nickel sulphates used in electric car batteries. The large reserves and the world-class factory processes ensure that our customers can rely on our long-term and extensive cooperation.
3. Traceable production chain. We help our customers build a truly traceable value chain. We create added value, especially for our customers who are seeking a competitive advantage from the responsible operating models of a European value chain.
4. Quality assurance. The purity of battery chemicals is evaluated with an accuracy of up to parts per billion. That is why we have developed strong analytics expertise, which we offer to our customers. We provide our customers with research information on international research projects and the development work of the European battery strategy, in which we are involved.
5. Efficient logistics. We ensure the efficiency of our deliveries even during transport. On the industrial site, we stuff the packed products into sealed 20' sea containers. We use automatic packaging lines and automatic warehouses to ensure reliable deliveries and purity.
Contact our Commercial Team